Posted on January 23 2020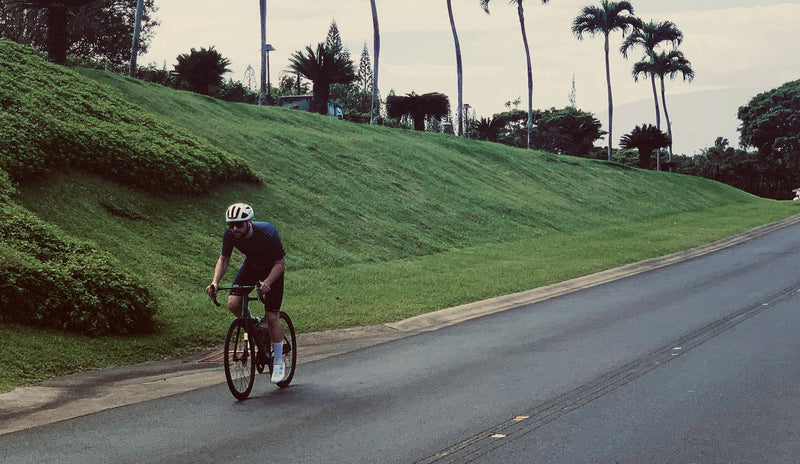 20.7984° N, 156.3319° W or better known as Maui in Hawaii is a cyclist's paradise. Maui is located in the Central Pacific part of Hawaii. It is home to the bluest sky, beautiful beaches, friendly locals but most interestingly, one of the world's longest paved climb that is over 58 km (36 miles) and takes you up not just a mountain but an active volcano known as Haleakala. This climb will take you just over 10,000 feet above sea level, averaging at about 5%, with some corners reaching 8-10%, the final 10 km is seen as the most challenging part with a solid 10% to reach the summit. With all that Haleakala has to offer, it is known as the "Cycle to the Sun". Maybe you are visiting for an intense training camp, or just want to take in the magnificent views, Maui is the perfect destination to bring your bike.
Being a very cycling-friendly community, with beautifully paved roads, wide bikes lanes, cycling almost anywhere on the island is very possible. The first ride, we headed to the north/west part of the island to check out a few climbs, the views on the way were breathtaking. Cycling and climbing through the mountains was a great way to take in what this beautiful place has to offer. Smiles and waves from fellow cyclists climb starting at 7%, 12% and eventually reaching the steepest climb on the island with a whopping 20% for about 2 km, and at the top a great place for a photo opportunity to show off the mountains, ocean, and palm trees as far as the eye can see for your Strava post. This route offers many opportunities to stop and meet the friendly locals, sample the fresh and delicious fruits grown right here on the island, and some of the best coffee I have ever enjoyed all grown right in Hawaii. 
 As the days went on, and the exploring continued, we headed East along the coast cycling through the mountains, man-made tunnels and scenic views that make you think "Welcome to Jurassic Park". The temperature would average about 27 degrees, most rides were sunshine with minimal clouds. With the sun rays pouring down, a cool breeze and the touch of mist from the ocean, which provided a much-needed refreshment and welcome surprise. Not every ride can be flowers and sunshine. There were always warm breezes to help you stay comfortable until reaching your destination and a rainbow that seemed too good to be true. Cycling through small towns & neighbourhoods it is a great way to take in the culture of Hawaii, meet many locals, and endless options for local cuisine and more funky taco stands serving nothing but fresh and local ingredients. The final destination for this ride was to a world-famous restaurant called "Mama's Fish House" located in Paia on the North Shore of Maui (total trip about 52 km) and there is a reason why it is world-famous. May it be the view of the beach while you enjoy your meal, the very friendly and knowledgeable staff, this has had to be hands down one of the best meals I have ever eaten (order the fish house special, you will not be disappointed). 
What would a cycling trip to Hawaii be without a ride single ride solely dedicated to capturing great photos of you in your favourite cycling kits with the most beautiful back rounds? Well, …at at least I did. The views in Hawaii are compared to the image on the back of a postcard, and that is not an exaggeration. The ocean in Maui is the bluest I have ever seen, the Palm trees grow strong and high enough to reach the sun, and the sun shines touching everything in sight. With all the mountains, volcanoes, nature and bodies of water, it is truly difficult to take a bad photo on the bike. Besides cycling in beautiful Maui, we must take a moment to appreciate the local beers. For those who have an appetite for Pale Ales and Lagers, The Kona Brewing Company famously produces "Long Board" a light a crispy beer best enjoyed straight from the bottle. The Maui Brewing Company offers more of a traditional American Style Lager known as "Bikini Blonde" which is very crisp and perfect for sipping on after the bike or lounging around the beach. Other great local beers are very popular on the island are IPA's, flavourful, delicious, and brewed right here on the island in small and numbered batches. The options of IPA's in Maui are endless, may it be you want something simple and tasty like Sierra Nevada's "Torpedo Extra IPA" or more sophisticated options I found two amazing choices by the Lanikia Brewing Company. The first IPA is the "Route 70 Saison" sitting at 7% alcohol level which offers a peppery sharpness with a touch of sweetness produced with local organic Ohia Hawaiian honey. The second is the "Moku Imperial IPA" sitting at a whopping 8.1% alcohol level which offers a stronger taste that is the perfect balance of hops and citrus sweetness and was my favourite of the two. These are on the stronger side and after two bottles you will be telling yourself "dude, trust me you can dance" so always enjoy responsibility. 
Exploring Maui Hawaii on my bike has been an experience I will never forget and would highly recommend to any cyclist at any fitness level. When travelling to any part of the world for a cycling trip, it always helps to research the area you are visiting and being well prepared. When packing your bike, always have a professional bicycle technician safely and correctly pack up all your gear and answer any questions you may have to the best of their ability. Always be prepared which includes bringing plenty of sunscreen (50 SPF or higher) extra inner tubes, tools (this will come in handy more than you may assume), spare tires, light and bell or another noise indicator, and of course your favourite cycling kit, matching socks and your helmet. When you reach your destination, try to find a bicycle shop that can correctly assemble your bike and other gear to ensure the best possible experience on your trip. Many blogs offer great tips and advice on where to ride, where not to ride and other information to get the most out of your trip. Be safe and have fun!