Marko Posted on September 18 2020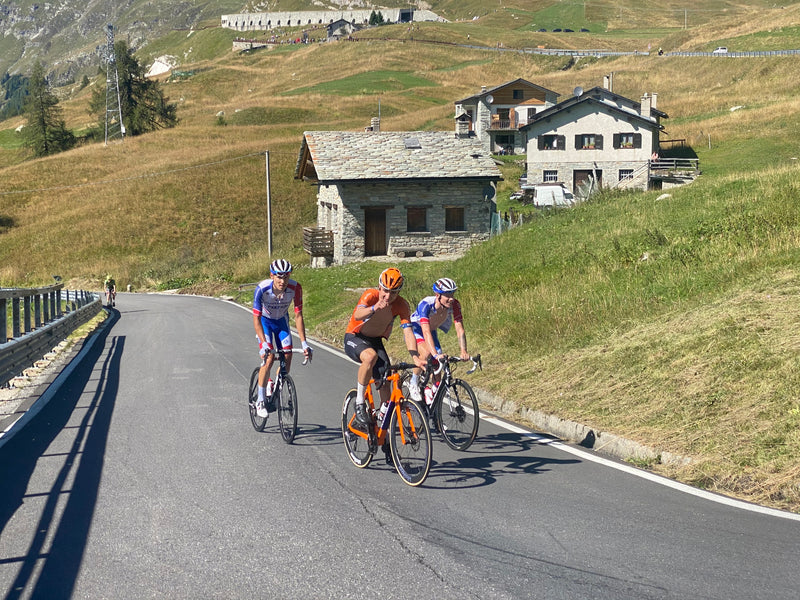 About two weeks ago I rode up to monte spluga with a few friends of mine here in Lecco to watch the final of the U23 Giro D'Italia. I had no idea it was even going on - not much publicity even here in Italy. I ran into the race the day before coming back from Ghisallo. After seeing the photos on strava, my friend Marcello said to me we should ride to Monte Spluga, just north of Lecco near the Swiss border and watch the finale. We met our friends Ivan & Lorenzo about halfway where the province of Lecco ends and Sondrio begins . Before all 4 of us set off, we had cappuccinos and pistachio brioches that were so so good. 
It's pretty flat until you arrive near the climb. Once you hit the town of Chiavenna which is about 400m elevation you don't stop climbing until you hit the Swiss border - I think the climb is about 24km, it's long but not too steep. Ivan wasn't feeling so good so he climbed his own pace. The three of us climbed at a conversational pace talking and taking photos until Lorenzo dropped off with about 10km to go. Marcello and I finished the climb together took some photos and went back to town to wait for the guys. 
We each had a ham and cheese sandwich and started the descent. We descended about 5km before the police told us to carefully descend and then we ran into the carabinieri that said no descending. 
Police: yes 
Carabinieri: no
 We figured we'd watch the race unfold at the switchback in the photo we all took together below. It was a great atmosphere and we found a cool place to watch the race. Tom piddock was leading and the eventual winner of the race looked so strong on the climb. We had the most fun with the guys that got dropped and the stragglers that were also having fun but looked in so much pain. A lot of the guys would yell "SPIANA SPIANA" which means it flattens soon but there was about 8km left of the climb. 
Once all the riders were done we finished the descent and rode back to our meeting point Nuovo Olonio. We said our goodbyes and Marcello and I rode back to Lecco at a fun pace. I figured it was Friday in Italy and it was going to be busy but it wasn't too bad much to my surprise. We stopped 30km from Lecco for some cake for Marcello and a coke for me. Very few things can compare to riding along lake Como during the evening.
It's the little things, you know? 
The ride is linked here if you're interested to see the route/more photos.