Marko Posted on February 06 2020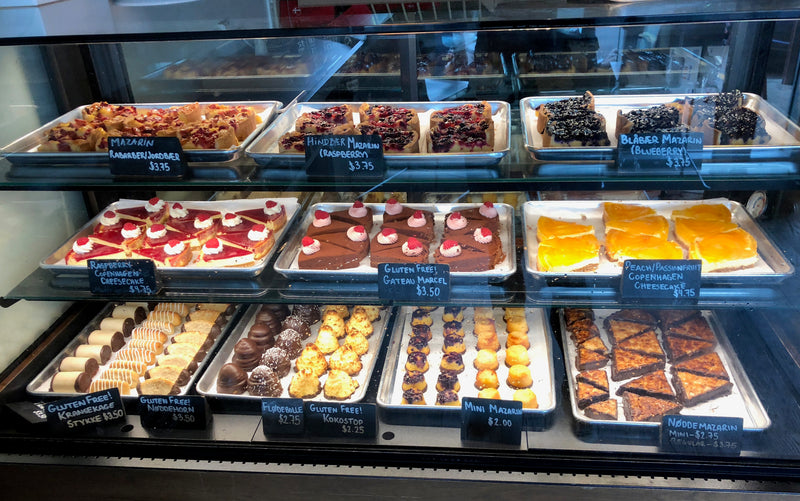 "We have ride food at home."
This weather has me reminiscing about places I find myself riding to quite frequently in the spring/summer. A few are out of the way and one is really out of the way. There are some more popular ones I have missed. However, I'm taking into account how easy it is to watch your bike since you have to leave it outside. Some places are really good but no pastry is worth losing your bike over.
Woody's Burgers
I'm going to start with this one because in the summer, it's a constant battle whether or not to stop here on a long ride. It's a perfect spot to end your ride especially if it's hot and you want to top up your sodium (not only will you get a full top up but you're going to have even more for reserve). The only issue is if you're doing a short ride and you're passing by this place, it'll be a battle between your mind and your senses because the smell is so good.
Come here once a year.  Twice - only if already lean.
Johnny's Pizza
I don't know whether this place has amazing pizza because I stop here every time I do a big ride or because the pizza is good. I'm going to have to drive up one of these days and eat an entire pizza, you know, for research purposes.  Either way, if you like your pizza well done and a little crispy, this is the place to go - the slices are a pretty good size as well. 
Come here if you're doing a big ride around Hockley Valley and Belfountain. Skip the beer.
Belwood's Country Mart
This one is a little out of the way. That being said - do you like fresh warm butter tarts that melt in your mouth and stretch your jersey a little bit? If you answered yes then this might be the place for you. I've done a lot of research in the realm of butter tarts and their gooey goodness and these always seem to come out on top. 
You have to come here at least once a season. Calories are justified by the 250km ride you're doing to get here and back.
Algonquin Gourmet Butter Tarts
Ok, this one is really out of the way. If you ever find yourself in this part this place is definitely worth the stop. The only reason I know about this place is that a few years ago my friend and I did a 400km loop around this area, more than half of the ride was in a torrential downpour. We found this place and a local bought us a few butter tarts. Not a place I frequent but I totally would if I lived up here. It might not deserve to be on this list but for purely nostalgic purposes I included it. 
You probably won't visit this place.
Sweet Gallery
I hate that I live so close. Cakes, donuts, pastries and coffee - this place has it all. I don't recommend you come here on an empty stomach or after a big ride. It can be deadly to the waist. This one is one of my favourites because it has a lot of stuff from Serbia that I miss. It isn't truly the same as it is back home because you need to have a dentist on call after eating most of this stuff. That being said, Sweet Gallery uses really high-quality ingredients and it isn't as sweet. My favourite thing to get is the Dobos cake. 
Try once in the off-season and then day dream about the sweetness in the summer.
Bunners 
I guess this would fall under a healthier category of sweets. Not really but it's good to believe your own lies sometimes. I remember going into this place when they first opened in 2010, they were small but now they have 3 locations. They're a gluten-free & vegan bakery BUT it doesn't taste like it. If you find yourself around this area I would recommend stopping here for a Red Velvet Cupcake. The Kensington and Trinity Bellwood's location has vegan ice cream made using Oat Milk. 
400 vegan calories never tasted so good.
Danish pastry House
If I'm doing a ride out west and coming back home via lakeshore, there is always time to stop here. There are way too many options to choose from, but for me, the viking slice  (filled with almond paste and custard) takes the win. 
Coffee is only ok. Go to bird & beans for better espresso.
I can't wait for the flowers to bloom and the roads to dry up so I can start this all over again - the battle between body, mind and pastries. 
-Marko