Posted on March 04 2020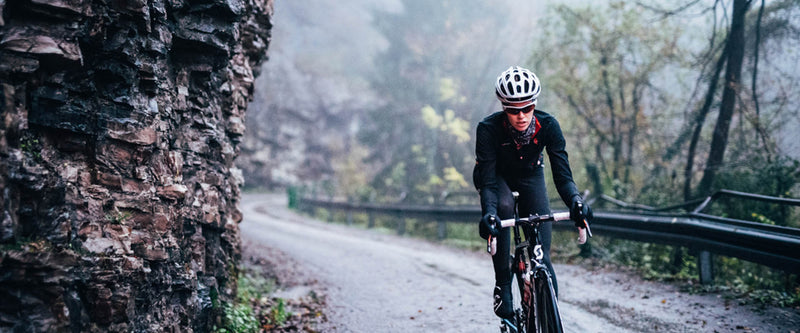 For the team here at Racer Sportif March always seems to be a busy month. Many riders trickle in as the outdoor riding season looms, or has already kicked off for the "tough" riders who can't resist bundling up and getting their wheels moving again. The spring offers some spectacular riding, though March and April temperatures fluctuate greatly riders with the correct gear can out and enjoy some of the cooler, sunny days. The cycling apparel industry has come a long way since the days of baggy wool jerseys and rain capes that flap in the wind. Even gloves, caps and booties have become lighter, warmer and allow riders to feel more connected to their bike. Here are my top 5 pieces every cyclist should have for early spring riding.
The Head
I will start with the head and neck as this is one of the most crucial areas to protect during cold weather riding as you can lose a whole lot of heat from your noggin if it's not covered up, keeping your neck warm is also crucial and can prevent athletes from catching nasty head colds or a dreaded sore throat. 
The Castelli Difesa 2 Cap is a great option for early spring riding, the cycling cap with a classic brim will also cover your ears for when the temperature is hovering around 0, should it warm up you can always flip the ear covers up for more airflow.
The second piece for your head also comes from Castelli in the form of their numerous iterations of their classic Head Thingy. This piece is a neck buff and can be pulled over the head to your neck to offer protection from the elements. This piece can be worn in a number of ways, hence its name head thingy. Choose from thermal to lightweight options and protect your neck this spring!
Jackets
Investing in a quality cycling jacket is essential for those living in the northern hemisphere. Yes you can wear 3 different pairs of arm warmers and two vests but you will end up looking like the Michelin man and probably have some skin showing that should not be out until later in the season. Having an outer layer jacket which you can dress according to the weather underneath will not only be more comfortable (less layers) but also regulate temperature better than trying to pile on summer apparel which is not necessarily designed to operate in the colder temperatures.
Knickers
One of my favourite pieces of cycling apparel are ¾ tights also known as knickers. The great thing about these is that it is the happy medium between a full tight and a short, allowing you to keep the knee warmers in your drawer. Assos makes a great option in the Mille GT Knickers, there are ideal for temperatures above 5 and below around 12. Think of these as your best friend when it is too hot for a full tight but not warm enough to have your knees out!
Feet
We have all been there when your toes go numb and there is nothing you can do but get home and scream in the shower as feeling returns to them. This spring don't let yourself fall into another dreaded spring filled with cold feet. A warm pair of booties can often make the difference between just how long you can stay on the bike in the colder weather. Even as the temperatures begin to rise treat your toes right with the Toe Thingy 2 from Castelli, these are specific toe warmers that can easily be packed into a jersey pocket after a few hour of riding and an increase in temperature.