Marko Posted on January 02 2016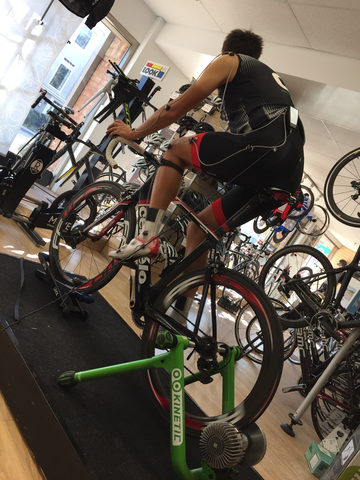 Going faster is usually what's on everyone's mind when they come into a bike shop. No one comes in  looking for wheels that are going to slow them down.  Sure, the upgrades will help - but only to an extent.  It's about the engine and not about the bike...right?
 BUT what about how the bike FITS you? This is  something I never really took into consideration. I  just went for a pretty basic bike fit when I bought my  Cervelo. They adjusted my height, swapped out the  stem for a pretty PRO looking setup. The bars they  didn't change (more on this later).

 You know that back, knee, or whatever pain that  you're getting? It's mostly because of your fit or cleat  position. This has been my experience anyway. My  position was pretty extreme, it looked like I was  doing a TT when I was on the hoods. Imagine what  the drops looked like?
 I LOVE riding so any kind of pain, discomfort I will try  to ignore. BUT everyone has their limits. My back  has never been in amazing shape, and I can thank another sport for that problem. This is why I used to ride mostly on the tops, they were the most comfortable.
Are you turning a bike or a truck?
Back to the "going faster" part. Now, you don't always have to go fast but it's nice to be able to so in comfort. I never really liked my bars as they were too thin. Something that was made even more clear to me this year on one of my many long rides with a buddy. Not only were they really thin
and provided little to no comfort, they were 46cm wide! I wasn't sorry to see these go. I always knew the stem was too aggressive and was contemplating replacing it eventually. Once on a ride someone told me they've never seen a -17 degree stem on a non-pros bike before. It did look pretty cool though.
What do I need to bring?
On to the FIT part. Apparently Team Sky is fitted with Retul, and if it's good enough for them, it's too good for me! The computer uses a three dimensional motion capture of your pedaling style and position. I felt like a lab rat when the cables were being attached to my body.
I almost forgot to add - you need
your bike (obviously)

shoes

bibs  

a SLEEVELESS jersey or vest(I used the vest since I don't have

the arm development to rock a sleeveless jersey).
What happens during the bike fit?
So I start pedaling and my saddle wasn't level(obviously). My saddle height
was raised a little bit which I was pretty happy about-pursuit of pro-ness? Once that was done we moved towards the bars and stem. I used to have a 3t -17 degree arx stem that was 110mm in length. We changed it for a 110mm -6 degree zipp service course sl stem. I figured it would be the same
but I had to go LONGER (YES!). So I ended up with a 130mm -6 degree stem. Then we moved onto the bars. Now I previously said that they were 46cm-that's almost too wide for anyone. And I don't have broad shoulders either. We swapped it out for 42cm zipp service course bars. Now on my previous bars the hoods were never raised and I always struggled to be comfortable there. The hoods were moved up - this felt weird at first but now it's so easy grab the hoods and shift gears.

Once you're done you get a detailed report and it's sent to you via email.  So when another bike is added to the stable, you can just transfer all the measurements and have exact same position as the original one.
On the road experience
 I did a short ride the next day to test it out and it exceeded my expectations. Not only do you have that whole "kicking back" pedal stroke going on but it was A LOT more comfortable. I was in the drops comfortably and I spent the entire ride on the hoods. I tried to ride on the tops but there was no reason to anymore. I did only do the two rides back-to-back with the new fit. I've been running more than anything. 
BUT since I got the fit in November, almost two months has passed and I love it. I've done rides from 20-100km and found myself riding in the drops and kicking back just feels like free POWER!
The biggest changes that was made were to my bars, stem and hoods. Everyone is different in how it'll change their riding position. I was scared that I'd have to rock a 80mm stem(not pro).
I have to say the best part is being able to ride in the hoods and the drops comfortably. I used to be able to only ride in the drops for a couple of minutes before my back had enough.

To find out more information click here: http://www.racersportif.com/pages/retul-bike-fit
or simply book a fitting today via info@racersportif.com