Marko Posted on October 28 2021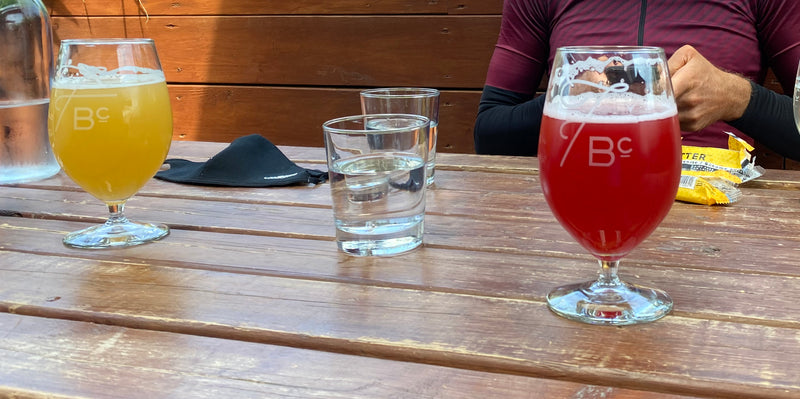 Nothing goes better together like coffee and cycling, right? Wrong. In a world where an oat cappuccino costs $7.00 (I'm looking at you, higher ground) it's cheaper and more fun to get a beer on your ride. But not any kind of beer, I'm talking about a Belgian breakfast— breakfast beers. A ride with deep roots and rich history dating back to July of 2021 that has become a staple of the time-honoured Sunday group ride. 
After a summer of excessive riding for absolutely no reason I find this is what keeps me going and you know what? I think everyone needs the breakfast beer ride—just easy, everyone's happy, we're riding bikes, getting some sun on the skin, add a little rail trail to mix it up and it's a perfect loop. It helps that the trail ends at the brewery. It was meant to be.
Breakfast should provide 300 to 400 calories according to a google search. Another quick search reveals that a 12oz of that weird stout I had last week happens to contain about 250 calories which are distributed wisely over slow-releasing carbs and energy-boosting proteins. Not only am I having a low-calorie breakfast but I'm also maintaining a healthy active lifestyle in doing so. 
This is how I look at it. Say you buy an overpriced oat cappuccino and a Costco imported pastry ( higher ground 🤌🤌) that comes out to $12. Being a quick eater, that provides maybe 3-5 minutes of happiness if the cappuccino is hot enough to sip. On the Belgian side of things, you can get a 12oz for $5 at a brewery that provides 10-15 minutes of happiness and even longer once the buzz kicks in.
If you must stop for coffee and a pastry I do highly recommended COYWOLF coffee in Inglewood. Their coffee is way better than any in the area & they make all their cookies/pastries in-house. I would gladly spend $12 here. 
With craft breweries popping up all over this great province of ours, it's time for a change. Skip the coffee & pastry and opt for the eight percenter on no food, 4 hours in, fasted, and enjoy a nice ride home.
Might I suggest some of my favourites? They're bike-friendly and have reviews that don't make any sense.

Bandit Brewery 
Rating: Pretty good. 
Review: Sometimes the beer tastes like it was made in someone's tub during the prohibition. If that's what you like then it's a 10/10 for historical accuracy.

Fairweather Brewing
Rating: Probably the best one here. 
Review: They open at 11 am so just in time for us to do a somewhat decent ride. Had a really good sour but like all good things in life they cancelled it. Maybe it'll come back as Family guy did in 2005. A boy can dream.
Grain and Grit ( I don't care what Frank says)
Rating: We had a good time.
Review: Go here if fairweather is closed. Tangerine sour beer was like spoiled Orangina with an ABV of 7%. 
Good lot Brewing
Rating: Good but probably not as good as I think.
Review: If you're riding on shaw's creek near belfountain it's just there. I'm usually  8 hours into a ride when I see this place and I'm questioning why I'm doing this. Is this real life? It better be, I took for the red pill in 1999.
Sidelaunch Brewing (maybe kinda far idk?)
Rating: Decent. It's a brewery that has jenga and I'm an adult.
Review: Not too bad if you're in Collingwood or riding there. On the plus side, If the power goes out, you get free beer. It's near scenic caves so if you're into everesting you could make a game out of it and crush a crispy boy every 1000m. Just a suggestion.
Creemore Brewery (less far but still kinda far)
Rating: Outstanding.
Review: The beer is free. The best things in life always are.