Marko Posted on January 29 2021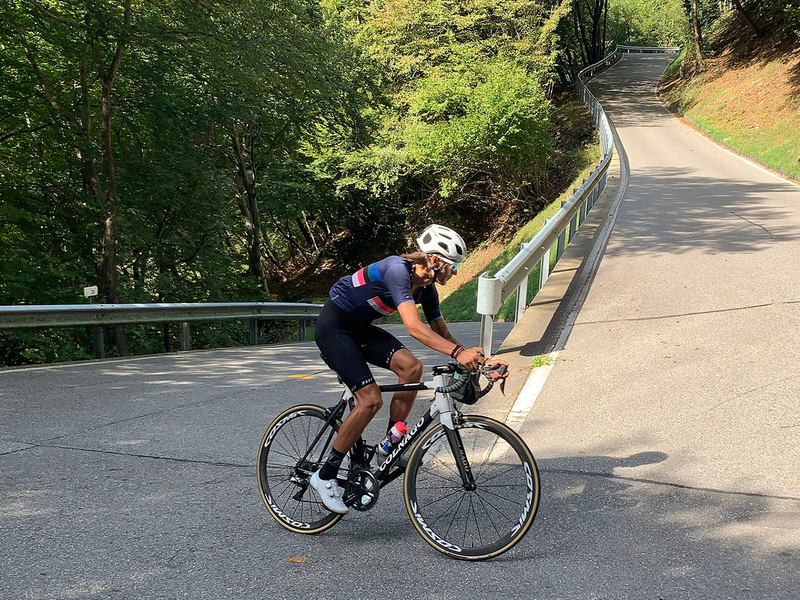 Lucca Italy
 The birthplace of the Lion King (Mario cipollini) is synonymous with cycling and pure style. This part of Italy will look like the Giro on Sunday with the Italians bringing out their special Sunday bikes, flashiest kits and bronze-est skin . The walled city itself is absolutely beautiful filled with cobbled streets and no cars allowed inside. Lucca is awesome because not only do you get the rolling (crazy narrow) hills of Tuscany but you also have high mountains very very close by. Most people will think of the chianti region because of Strade Bianche but this is the area to base yourself. Monte Serra is about 10km away and so is Pisa so you pretend you're holding it and post it on instagram.

Road surface: 6.2/10
Scenery: 9.1/10
Sensations: 9.7/10 
Lecco, Italy
 I've spent so many days riding in this area I'm going to be a little bias and say this is a top 3 base. I was very happy to extend the trip this year. When people go to this area of Italy their first instinct is to go to the Muro Di Sormano and Ghisallo. It's all about heading east into the Bergamo Alps. Once you climb out of Lecco,  quiet little Italian communes await, no cars and the unbelievable scenery. One of the best routes up here is to go east from Lecco (only one road out) That takes you about 1300m, descend into San Giovanni Bianco and ride up the hard part of Passo San Marco up to 2k meters. Your reward for all the climbing is a 24km descent. Riding around the lake and doing those famous climbs is nice but the stuff you don't hear about is always better. 

Road surface: 5.2/10
Scenery: 9.3/10
Sensations: 9.5/10

Province of Malaga/Granada, Spain
If you like the beach, city & mountain life you hit the jackpot. Since I was locked down here in March I was able to appreciate this part of the world for 4 months. The city itself is busy but out of my apartment which was in the centre it's a 2km ride to the start of the 10km climb which takes you into the Malaga mountains. The riding here is phenomenal, drivers are courteous & the road surface is fantastic. If you don't like climbing maybe avoid this place. Most rides I did had 2500-4000m of elevation which gave me a monthly record of nearly 60k meters. 

 Road surface: 9.4/10
 Sensations: 6.5/10

Cote d'Azur,  France
 This is similar to Malaga and Granada except you see more Ferraris. I have fond memories of vacations here when I was little so maybe why that's why I hold it in such high regard. Riding on the coast, like in all popular places,  will be busy. The good news is once you go inland you'll be alone. That's good and bad depending on who you are - I welcome solitude with open arms. This is one of the more popular European bases for pro riders so expect to see the big players rolling through Monaco. 

 Road surface: 7.8/10
Sensations: 7.4/10
Riding with Sagan, Gilbert & Viviani: 10/10
Hotel: Trivago
Girona, Spain
 Seeing as I spent my entire summer in Girona this year I can't say anything bad about this place. It gets so hot in the summer the bottom of your shoes are on fire and your hoods are hot to the touch.  Probably the most popular European base, you'll see pros all the time - they wave, you wave - everyone waves.  It's all very nice and civilized and so are the drivers. Not hilly unless you go to Montseny. Overall a cool place to base yourself for months since you won't get bored doing the same 4 loops. 

 Road Surface: 9.1/10
 Sensations: 7.1/10
Drivers: 9.7/10
Mallorca, Spain  a.k.a Paradise.
There's not much to say since most people have been here. Everything is amazing, the mountain goats are amazing, the scenery is amazing but it's an island so there's only so many loops you can do. Pretty good for 2-3 weeks. Maybe a month if you have a friend that will ride 40 hours a week with you for no reason.

Road Surface: 9.3/10
Scenery: 8.9/10
Sensations: 8.5/10
Lugano, Switzerland
 If you base yourself in Como you can do some pretty cool loops around Lugano and surrounding areas. It's also warmer in the winter than most places in this area. There are a lot of climbs here specifically Monte Bar - 12km @ 9% average just easy. It's no wonder Nibali lives & trains here.

 Road surface: 7.8/10
Scenery: 9.1/10
Sensations: 6.8/10
Torino, Italy
 I did a tour here 2 years ago and since all the mountain passes were closed due to snow I opted to ride around here and it was awesome. The giro had just passed by here and everything was decorated for the race. Italian fans are the best.
Sensations: 9.4/10
Scenery:  8.5/10
Road Surface: 6.45/10
People cheering at you while riding: priceless 
Andorra
 I only did a day trip to Andorra but it looks like it would be a fun way to rediscover knee pain for a week. There exists up or down here - nothing flat. The descent from 2400m is really fun. Cars are good too with the law being a 2 meter passing rule.

 Road Surface: 9.8/10
Scenery: 9.3/10
Sensations climbing from the French side: 8.5/10
Gran Canaria, Spain
 It's summer here year-round. This is also one of those "up" or "down" places to ride as that's what you're going to be doing most of the time. Even the coastal ride has more elevation than any ride around here. If you're riding West from Vecindario you're always blessed with a 60-70kph tailwind so if you have a 54/11 reaching 80kph on a flat Is not difficult. I made the mistake on my first day going into the headwind.  Make sure you're fit enough (or want ) to climb every day.

Road Surface: 9.63/10
 Sensations: 5.5/10

Liguria, Italy
 West or East of Genoa is a nice ride along the coast but I really do prefer the east - the roads are pretty good here for Italy. The coastal road is fun but once you go inland the fun really begins.  Portofino is nice for something other than riding.
 Road Surface: 6.9/10
 Sensations 8.4/10
 Some of these places are very popular and some not so much. Either way, I'd recommend any of these if you're tired of doing the same cycling trip every year. If you looked at the ratings you'll notice that Italy has the highest levels of sensations but the worst roads. The roads are terrible - there are a few descents that you have to bunny hop and avoid bad roads the entire way down - this is just how it is.  There's a sensation-to-road surface ratio that Italy fulfills without trying. Spain is the best place to enjoy riding your bike without worrying about someone cutting you off or passing you too closely. France is somewhere in between - depending on where you are of course. I've noticed the drivers behave differently between regions. I really didn't enjoy riding through Montpellier & Marseilles but that was my fault.