Posted on July 15 2020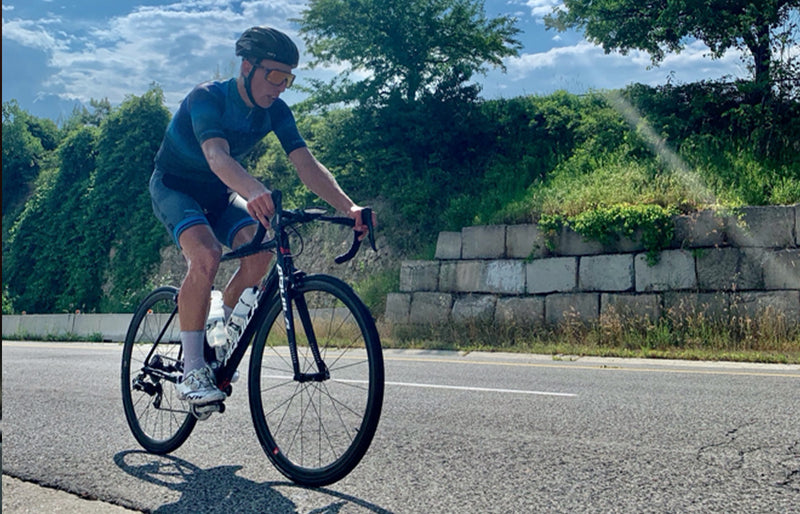 Where do I even begin? This challenge is outright crazy and stupid. But I think that is exactly why I was so drawn to it. I mean, who in their right mind would want to climb repetitions up and down the same hill until they reach the vertical elevation of Mount Everest?
When people think about Mount Everest, I think that they think of this massive mountain and all the stories behind it; tails of perseverance, strength, resilience, courage, and even death, to try and make it to the top! Battling the harsh elements, unpredictable weather, and lack of oxygen, climbing Mount Everest is deemed one of the toughest things a person can do. For me, this challenge started off as a joke, something that I was telling my sister, Dominika Jamnicky, and her boyfriend, Kyle Boorsma, I may want to try one day after watching some professional cyclists do them on YouTube back in May; and with the lack of racing and motivation under these unprecedented times, I need something to set my target on while motivating me to get out training again. With a true passion for cycling re- sparked with an awesome new bike I had recently gotten back in March (Aquilia Equipe R), I just loved getting out and riding. It didn't matter where I would ride, how long I would ride, or lack of people to ride with, getting out and riding during the past few months, I've rediscovered the love of the road and my real passion. So, I thought to myself why not try something that would really challenge me on the bike?
 I started doing some research for the optimal hill around that I would have to do the least amount of reps on, and that mitigated travel as I wanted to respect the current rules in place at the time and reduce any unneeded risks with travel. I had also learned about the efforts with Max's Big Ride/Big Climb (MBR) to End Muscular Dystrophy. Drawing inspiration from this event I knew immediately that I wanted to do the challenge in support of MBR, on Sydenham Road Hill in Dundas, to help raise awareness! Before I knew it, my month of preparation for the challenge came around and I was feeling ready to take on the challenge! The night before the Everesting I was unfortunately not able to get much sleep, perhaps due to the nerves and excitement, but I was up around 3am and ready to roll by 5; having the biggest smile on my face rolling down the hill to start. For the first 30 laps I felt amazing! Max and his family had come out to support, I was hitting my targets I had trained for, I was into a nice rhythm, I was fueling well, and I remember thinking to myself at this rate I'll crack halfway in around 5 hrs and I'll be right on the 10hrs bubble (which was a secondary goal, next to just finishing this beast)! A few laps later my power was dropping, and I thought I was starting to bonk, so I started taking in more and more nutrition, plus caffeine. Big Mistake! Around 3300m of climbed elevation my stomach started feeling unsettled, and one lap more I threw up! At this point I thought my day was over, as I tried to restart after resting, to no prevail, I felt completely empty and couldn't turn the pedals, stopping after just 2 laps to rest again. It took about an hour to recover; trying desperately to get something in me, pretty much all the fuel I had brought was off limits due to it coming up, so bread and water it was, and reset.
With the help of Kyle, I was able to restart as he virtually towed me up the hill. It was what he had said to me that really stuck, "just take it one lap at a time, if you have to end the ride, you have to end the ride, but just see how far you can get". Starting up with this mentality after 5 reps the legs started coming around and I was able to push through to finish up 10 more, making it over 4442m (halfway). This mindset was exactly what I needed, breaking up the remaining laps into blocks of 10was my new goal, get to 10 and I can rest; plain and simple mindset. But even that at times when I was out there solo was tough when the heat would really be pounding up from roads. Between the 6-8hrs mark in I was struggling both mentally and physically. You just have so much time to think that you mind wanders, you lose focus and just want to stop after doing 1 lap. So, I shifted my mindset and would just try to get in as many reps as I could without overheating, and then take periods of rest to cool down.55 laps in, some more family and friends came by the hill and my moral was completely lifted, getting to the top and having people there to support was huge! Both mentally and physically it was much easier to get up the climb. Soon after Max's father Andrew and his father had returned and that also kept me going.Now with 18 laps to go a huge thunderstorm had rolled in and I was forced to stop. With about a 45min window of rain forecasted, I was physically ready to call it a day, but then I kept thinking to myself, I can't quit now I've come so close, it is less than 2000m left! Andrew is here, Andrew's father is here, I have so much support here I can't let them down; I have to finish! I kept relaying this in my head during the rain, and when the rain stopped, a good friend, Elise Bolger, had also driven in and between her and my sister, had climbed the remainder of the climbs with me; I can't thank you enough, getting me motivated after the rain, I don't think I would have finished if I had to climb the last 18 reps solo if I am being completely honest!
Finally, I was on the finishing lap. With my sister by my side on this lap, it will be something I will forever remember. Every time I wanted to give up, she was day! right there in those toughest  moments, and right there supporting from the moment I  I couldn't be happier or more proud to achieve this goal, but it would not have been doable without the inspiration and motivation that both Andrew, Max, and the entire Sedmihradsky family and the fight they bring to end DMD! It was exactly what I needed to push me when I felt like giving up, when the rain rolled in, and when the roads were radiating heat, through it all Max's resiliency and strength, and many other kids just like him came to mind! My suffering was privilege, and honour to complete it for Max.
I think the two biggest thing that I took away from yesterday is; one, the mind is more powerful than I thought, after so many times I may have felt like giving up, there is something special that goes on when I fought that feeling and keep pushing to complete it. After all the adversity and elements faced, I realize there is no limit to what you can accomplish if you have the right mindset. Secondly, there is nothing a family cannot accomplish together. No matter the adversity or what they may be going through, a family's strength and resilience will get them through it. And I now know why I was so inclined to do this ride after watching the story with Max's Big Ride and Big Climb! A big thanks to Sedmihradsky family for letting me promote such an amazing cause; please go onto their site and check out the amazing things they are doing (www.maxsbigride.com). I can't thank everyone enough who supported me through this and made it happen, without my support crew, taking on this feat would not be possible either. It truly takes a team to tackle something like this. There are no amount of words that will ever describe the experience this journey was for me, and what it means to me to complete it, but I hope this reflected at least part of it. I know right now I'm thinking "I'm never going to ride that hill again", but I'll probably be back out on it soon enough, and it will carry a different perspective; as it will for those that were there that day. I am sure this won't be my last crazy idea on a bike, so stay tuned, after a bit of recovery of course!
  Jacob Jamnicky