Marko Posted on June 18 2021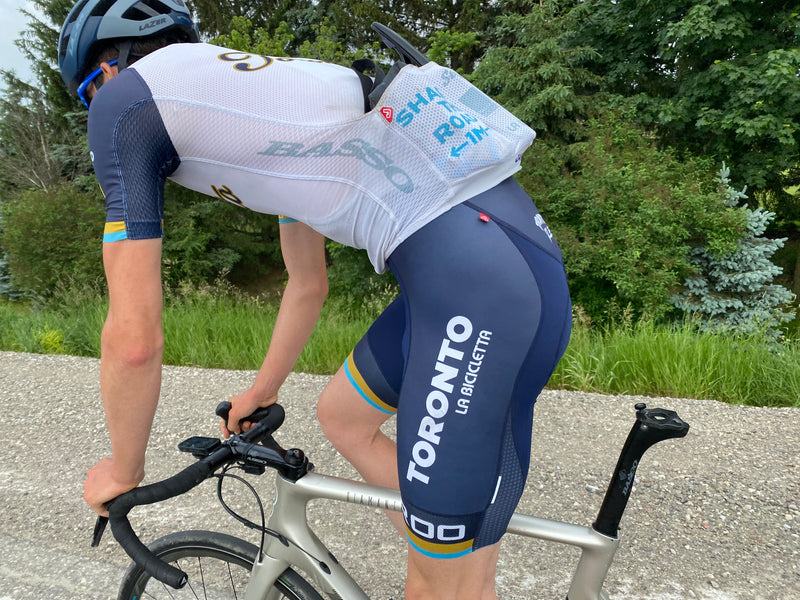 Another Sunday Morning Adventure on Two Wheels
There are many reasons why we enjoy riding our bicycles. One such reason is the plenty of opportunities to create great memories as we adventure through local roads with friends. This past Sunday was no exception.
The morning started off quite normal. Five of us planned to head up north towards Belfountain for what was to be a fairly regular morning ride. We made it through the first 45km at a nice steady pace, all according to plan. That all changed when I started my first effort for the day. Marko and I gave the others a couple minutes head-start before bringing the power up to a decent clip for a fair while. We never made it to the end of the effort. About halfway through, seemingly out of nowhere, my saddle snapped apart leaving bike parts all over the road and myself with nowhere to rest by bottom.
After a few seconds of disbelief, we began to piece together what had just happened. Naturally, and especially when I'm going hard, I put a lot of pressure on the front end of my seat. This, coupled with extremely poor adherence to manufacturer torque specifications, placed great stress on the rear seat post bolt. Midway through out effort, it decided to finally give out. 
By the time we collected the clamp pieces over the road, I was fully prepared to make the lonely, near 2 hour trek home. With no rear bolt, this meant I'd be rolling with my saddle stuffed in my pocket like so. Frank (who had since caught up to us) had other plans.
Not one to leave a man behind, Frank was determined to find a solution to our problem. The rest of us were suspicious, given we found ourselves on an empty country road. This proved no obstacle. First, Frank's keen eye spotted an old zip tie on the side of the road. This zip tie would have served well to fastened the rear end of the seat down, unfortunately it was about 5mm too short. Despite what appeared to be a failure, this chance zip tie became the inspiration for our eventual solution. Grabbing a rubber band from one of his lights, Frank was able to tie down and fasten the seat back down much like a zip tie could have.
After a lengthy stop at the side of the road, we were rolling again and I was still able to use my seat, despite missing a bolt. Interestingly, this new fastening mechanism offered a unique new approach to promoting stability and comfort on the bicycle (at least that's how we framed it over the next hour or so). In case you were wondering, the flexibility offered with the elastic fastening mechanism allows for the saddle to better move with the pelvis. Thus, increasing support throughout the entirety of the pedal stroke. Either that or it was just really loose.
Eventually we made it to Erin. After a quick coffee stop, we decided to try our luck at finding a new fastening mechanism. Fortunately, the Erin hardware store was a great help. After a few tries we were able to find a nut, bolt, washer combination that seemingly worked just as well as the original. From here on out, the ride was smooth and steady all the way back to Oakville.
Maybe the ride turned out a little heavier than if I had turned back at my first opportunity, but had I, never would I have gotten to experience such an adventure on two wheels. Call it a wonderful exercise in consciousness expansion. Yet another line item on the long list of reasons to ride a bike.