Posted on May 13 2020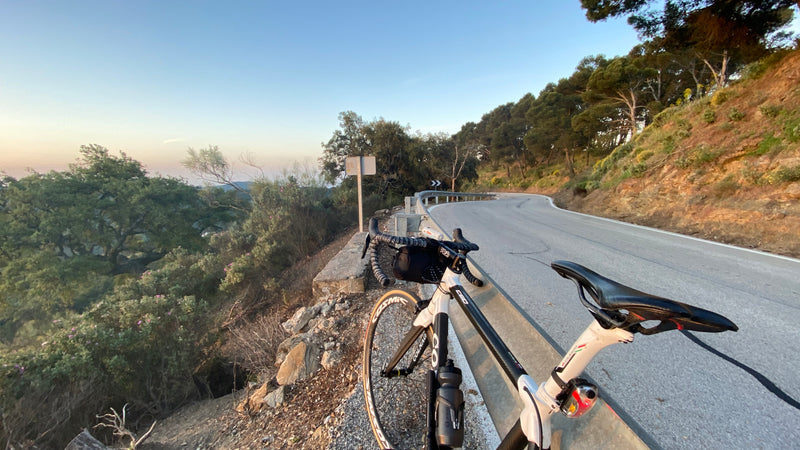 Saturday May 2nd, we were finally allowed to walk, run or ride for the first time since March 15th. I'm not going to talk about the lockdown because there's nothing much to say.  I'd like to say i did something profound but I just watched the entire library of Netflix and amazon prime in bed. So the first week of riding wasn't exactly a great experience. It was almost like I was a pack a day smoker for 30 years going up a climb here in Malaga. Right outside my apartment there a climb that's 15.5km @ 6% so not exactly steep or very long and my gears didn't make it easier. The first attempt was brutal -  I was struggling to keep my cadence above 60,  breathing like crazy, my back hurt and I was carrying some excess kilos. 
It doesn't help that we're only allowed to exercise between 6 am-10 am and 8 pm-11 pm. It's a pretty weird schedule but there's nothing I can do about it. They're changing the rules constantly so they might do something about this because I hate getting up at 5 am. The upside to getting up this early is I get to see the sunrise over the Malaga mountains and there are virtually no cars or other cyclists up at this hour so it's not too bad. I've never felt worse after only a 14 hour week. 
This week started a lot better, I'm lighter because the diet has been really good, I fixed my position a little bit and overall fatigue is becoming easier to manage. I'm not doing huge rides (about 80-90km with 1900m of elevation) which is all I can fit into this time-able with no stopping. I figure it's for the best because if I started out doing 6 hours a day I'd be super fatigued and the summer would be ruined. It's nice to start easy and I think changing from Torremolinos to Malaga was a good move.  
Aside from the restrictions, I have to say the riding here is outstanding. I've never been anywhere (except gran Canaria) where 2km out the door you're in the mountains totally alone. It's so close to the city but it feels like you're in another dimension. Once this lockdown & state of alarm is over and they start allowing tourists to come I highly recommend Malaga as a base. There's a ton of hidden little roads in the mountains and like all Spanish drivers, they are very considerate here towards cyclists. I'm not a fan of them waiting behind me in a corner so I always wave to pass if it's safe - on the descents, it's a little different.
Another huge bonus is the weather. Next week looks to be about 25-27 degrees average for the remainder of the month. During the lockdown, it was almost raining and cold every day so even if I wanted to ride it would have been pretty miserable. I like to think of this as some sort of reward. It'll be nice to be tan once again. 
I was planning to ride back to Milan at the end of June so hopefully that works out and the EU opens the borders between countries. It would be nice to return to some semblance of normality. If that happens I can finally ride through Andorra, the french alps and the dolomites in one tour. Something that I wasn't able to do last year because of the snow blocking most of the passes. 
I lost a lot of motivation to get fit again but I think it's coming back, on the first ride out I thought I'd never been able to get up a mountain ever again. I was even thinking about just leaving the bike to collect dust for the summer - that would be a first. Either way, I'm happy I was able to get through the crazy strict Spanish lockdown and regain some form for the summer. 
Marko