Posted on April 16 2020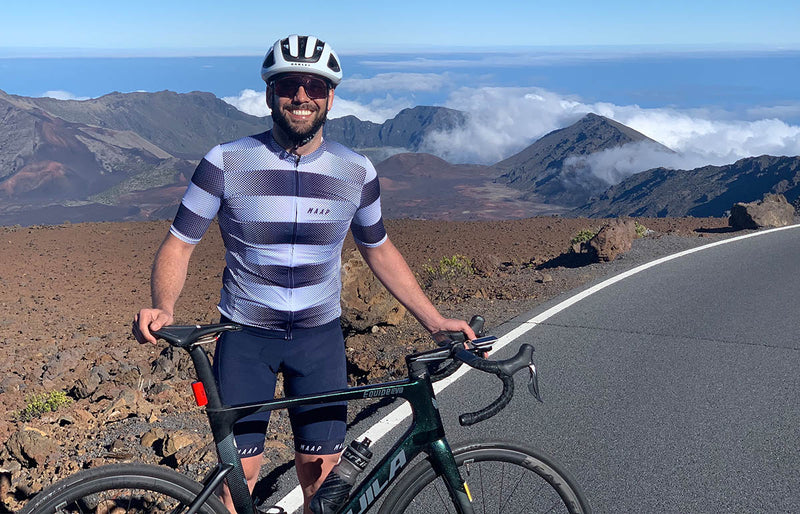 "Suffering is like anything else. Live with it long enough, you learn to like the taste."
     -Leigh Bardugo
Located on the on the east side of Maui in Hawaii, rests a volcano known as Haleakala, or to cyclists it is known as the "Cycle to the Sun". This is my journey and my conquest getting to the summit. I would like to start off by giving a big thank you to my grandfather Adrian for the full vehicle support all the way to the summit, thank you Adrian for the much needed support during this wonderful journey. 
 8 am wake up, black coffee, oatmeal with sliced banana, 2 eggs easy over, half an avocado, and a glass of water was my fuel in the tank to get started. My father Dennis and I have been planing the final big ride for a number of weeks and I will admit I wasn't sure if I was able to complete the climb. This was my first attempt and luckily I have been training on Zwift for weeks before the trip and I must say that was a major contribution to making it to the summit. Having the correct equipment and the perfect bike fit made this journey less of a chore and more of a joy. I climbed Haleakala with my Aquila Equipe EVO, Shimano Ultegra R8070 Di2 hydraulic group set, and my Real Speed Carbon wheels, my gear would not be complete with out being dialled in correctly. I give major appreciation to being fitted with the RETUL Fitting System, comfortable and efficient all the way to the top.
 The distance from sea level to the top is 60 km and covers just over 10,000 feet of climbing. We started about 1.5 km away from the base in parking lot the sits exactly at sea level, it was 0% for the 1.5 km, but when you reach the base of Haleakala, it's 5% from the word go and stays at that average majority of the way up, but a few surprises along the way. On hand, I had one bottle with orange Skratch hydration mix, a front and rear light for safety, and a few packs of Hi-Chews. Hi-Chews are like Starburst candy but are way better, the high sugar content packed in a tiny bite size in pineapple or banana flavour, if you see them, buy them! Every 20 minutes or so I would pop one them back to maintain my energy level.
As we were climbing every 1,000 feet, there would be a sign informing us how many feet we have covered -1500 ft, 2500 ft, 3500 ft and so on. The first 6000 ft was beautiful landscape and as the view grew more and more breath taking with a few patches of cows around a few corners, that was a little entertainment during this journey. The roads are paved beautifully and locals living on the volcano would wave and cheer us on as we cycled up. After 6000 feet, the ride made an odd twist. It was as though rain was going to begin, but that was not the case, we were actually riding through the clouds. The temperature dropped and the sun seemed as it was about to set, at this point Dennis said "This is where the fun begins"! After the 6000 feet mark, the first thing we noticed was the air quality would start to thin and Dennis strongly advised to hold back, don't push too hard or we will not make it to the top. I agreed and noticed where he was coming from, believe me. If I was pushing too hard or going about 12 km an hour the affect of thin air would take charge. My jaw would get sore, my teeth start to chatter, and my keens felt weak, this was a sign to pull back and conserve my energy as best as possible. The ride through the clouds was no very long, but the feeling when you exit them and the warm sun greets you was a very welcomed gift. As we rode, I looked over at the view facing down and could see the top of the clouds, that was the most breath taking view that I did not expect.
 Hours into the ride, we reached a sign reading 9000 ft, we were almost there. Myself, Dennis and my grandfather Adrian stopped for a quick 10 min break before to rest and re-fuel. I had a banana, a few Hi-Chews and a well earned Snickers bar. Before we continued the final 1000 feet, Dennis handed me a water bottle filed with what I would describe as black sludge, I asked what is this? Dennis said its Cola mixed with energy drink! Never have I tasted something so overly sweet I thought this can strip paint off a car, but in reality it was necessary. As we were approaching the summit, cars carefully passing us giving thumbs up, saying "way to go guys" & "looking good" was the perfect encouragement. 
 At this point of the journey, the road was all switch backs, some 8-10% even reaching 10-12%, but what felt like the most challenging was after seeing a sign reading 0.5 miles to the top. I could see the road ahead of me all the way to the summit, I could taste the end or the journey and I was hungry. The cold breeze made me tense and I just wanted to get to the top, but I still had to be calm and patient. The final turn showed the summit, the very end and my accomplishment. As we reached the top, tourists would be clapping and congratulating us, that was a very rewarding feeling that put a big smile on my face.
 We made it! 60 km and 10,000 feet of climbing up one of the highest paved climbs in the world and we did it. By this time you can imagine our mind's and body's were exhausted but full of joy. The idea came up of cycling down, but we decided not too. The ride down is about 1.5 hours and we didn't realize how steep the volcano is until you are descending. After taking a few photos and loading up our gear, I recall getting in the car and closing my eyes for a few moments, before I knew it we were back at the resort, I had fallen asleep.
 Overall, this was an incredible journey and my greatest cycling accomplishment to date. My first attempted was a success and I owe it all to my father Dennis and grand father Adrian for helping me up all the way. The day after I didn't feel as sore as I anticipated, I did a short 30 km to spin my legs as for recovery and enjoyed a cold IPA as a reward that evening. Haleakala, my conquer, my conquest.
 On a side note, as much as we love being part of the cycling community and riding together, during these times, everyone at Racer Sportif feels it's very important to practice social distancing to keep ourselves and other safe. Before we know it, we know and what we love…riding our bikes and enjoying each others company.
Be safe, ride strong,
-James Mizerski