Marko Posted on February 10 2021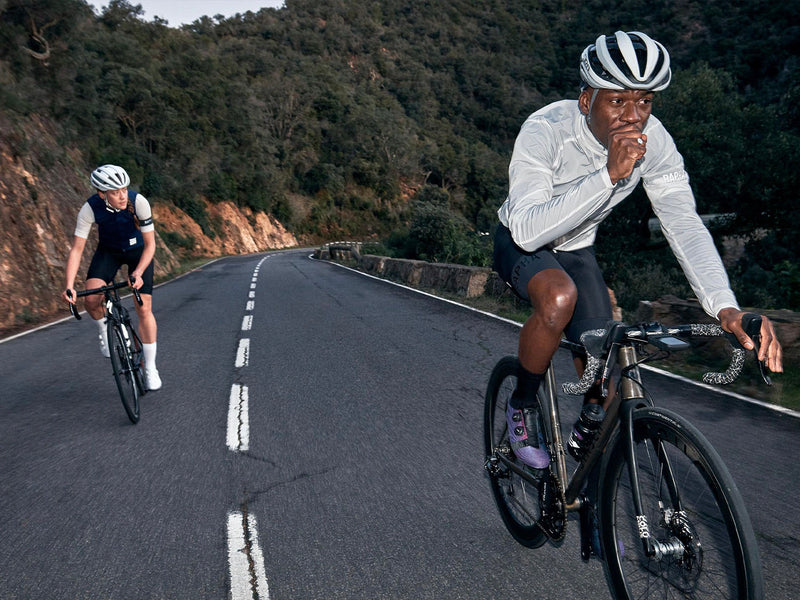 Having been around the road cycling scene for most of my life, many trends have been witnessed. Some have been able to stand the test of time, some come and go, some trends that come full circle, and some are just one of those "what were we thinking" trends.
Many years ago the fashion of road cycling very much revolved around and were influenced by the racing scene on the amateur and pro levels. Chances are what you wore each time you put your leg over your bike was your local club kit, gear the team you race for provides, plastered with sponsor logos. Perhaps you were one of those riders that didn't get the memo, that it is sacrilegious to wear the Maillot Jaune or "yellow jersey" of the Tour de France. That is a "no-no" unless you have won the race or are atop of the leader board. What is even worse is riding around sporting the rainbow colours only reserved for the World Champion.. Quite simply, these were pretty much the different ensembles that were fashionable.

Fast forward and a lot has changed. God forbid that you show up to the local weekend ride sporting a kit that is colour mis-matched, or sporting a Mercatone Uno kit circa 1998, when "IL Pirata" Marco Pantani was floating up the climbs of the Giro. Those fashion cues will only increase the groups appetite to drop you on the ride…. So the question now is how do you dress to impress?

I may not be the best example to follow, but I've been quite observant to see what the trends are. Here some of the most current fashion trends that have been bestowed upon the world of cycling fashion:

1. Tall socks – This one has been standing the test of time for the last while, and their doesn't seem to be an end in sight on this one. Tall socks make your calves appear to be larger than they really are, and Similar to business attire, flashy socks can make the suit. One of the major focal points of any lycra ensemble are your socks. You want them bright, either to match or compliment the rest of your outfit, and they have to be the right height. Not too short and not too tall. You are cycling, not playing soccer BTW…

2. Less is more – There once was a time where it was cool to be covered in sponsor logos head to toe, or the busier the pattern design of your jersey the better. We are starting to see a trend towards mono tone jerseys with very little in the way of logos. Same with shorts. Simple and clean.

3. An expansive colour palate – The world of modern fashion has bled into the sport of cycling. No longer are we confined to the traditional tones of red, black, white , blue and yellow on the colour wheel. We are starting to see more complex shades, with fancy names and untraditional to cycling. The last two seasons, the olive greens, navy blues, and burgundy hues have been in high popularity. We are even seeing bib shorts to match in unorthodox colours, where historically shorts were always black. The reason for shorts being black? it was a convenient way to wipe off your hands during a road side mechanical. We have seen all white shorts in the past, but I consider that to be one of those trends that should be banished and forgotten.

4. Matchy, matchy – As these unsanctioned rules of cycling fashion have become increasingly stricter, we are seeing a mandate 
that things have to match. If you are wearing a white helmet, you must wear white shoes. If you are wearing white shoes, then it is more appropriate to wear white socks. White saddle on your bike, means white bar tape on your handlebars. Planning on wearing your Assos bibs today? Well then you better make sure your Assos jersey and socks are ready to go too! You wouldn't be caught dead wearing a Castelli Jersey with Rapha bibs, that would be enough to make someone puke! The list just keeps going on and on…

5. Taller & Longer – Not only do your socks have to be taller and longer, but the same should apply to the length of the sleeves on your jerseys, and the leggings of your bib shorts. Who cares about how ridiculous your tan lines will look, as it will be more embarrassing that you couldn't take the KOM on that Strava segment because your clothing wasn't aero enough. Skin is not fast,
 lycra is! No wonder they changed the name skin suit to aero suit right?!

6. Easy Ride Day apparel – This is probably the funniest trend that I've seen. Ever notice riders out on their road bike, wearing a fast helmet, fast pair of shades on, bib shorts and clip in shoes, but they are rocking a baggy hoodie, or a baggy plaid button up…. What?.... Not sure that I understand this one. Is this signalling that you are not going fast today, so you don't need the tight fitting 
jersey on? But you are wearing everything else just in case you feel like going after a KOM. If I was taking that approach, I would just probably pair my baggy hoodie with some b-ball shorts and a pair of J's….

This evolution of cycling fashion is really interesting and fun. It is cool to see the influence that new people have brought to this great sport and activity, and I am excited to see what is next in store. What is your favourite fashion trend or rules of cycling apparel? Please feel free to leave a comment below.