Marko Posted on February 06 2021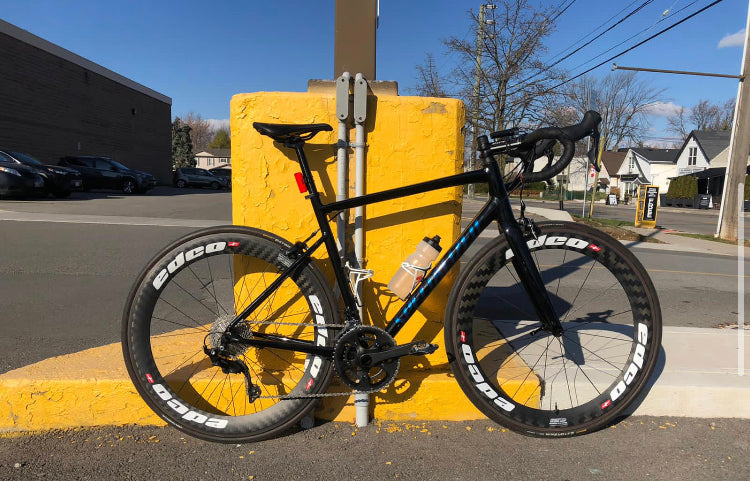 So you've got the cycling bug…
 Before COVID-19, the last time I probably rode a bike was probably 20 years ago. Yeah, that math kind of shocked me too just now. Needless to say, as difficult as 2020 was, I'm grateful it brought the two wheels back into my life.  At first the budget was $500. Got the only thing you could get for that money - a hybrid. Rode that for a couple hundred km's and realized its' limitations. I wanted something faster. But I still wanted versatility and cringed at the thought of LYCRA so I sold that hybrid and went with a gravel bike. As soon as I took that thing home, I immediately road as hard and as far away as I could and was hooked on the speed. The waterfront trail to Toronto from Port Credit became ritualistic - especially during Active TO. I was riding everywhere and trying to sell anyone I knew on buying any sort of bike to just adventure around the GTA. 
 Then I heard about Matthew Cuesta's #46forGeorge initiative. I think was able to keep up with a peloton for a a few laps before getting dropped and probably lapped inevitably having to finish the rest of the 46km's on my own. It was uncomfortable, yet I felt empowered.  Then I did my first "Jitterbug" century ride with a local club on what felt like the hottest day of the year. I'm pretty sure I got heat stroke because at one point I just couldn't see straight and later realized my jersey had no UV protection as I later realized it was mean for indoor riding. Go figure. I probably also came back heavier than I left because I misinterpreted GCN's fuelling guidelines of feeding every 30-60 mins with an entire bar and not just a bite. By the end of the ride I think I ate like 7 or 8 bars. That following week I traded my gravel bike for a road bike and picked up some sweet 65mm EDCO carbon tubular wheels, and now we're a full on roadman.  
 I managed to ride about 5000km in my first season and I can't wait to get back on the road for 2021. I made a lot of mistakes but also improved a ton from where I started. "If you wish to improve, be content to be thought foolish and stupid," some guy from Rome said that.  Do your own research, ask questions, make mistakes and learn from them. But own your whole journey because no one else can ride it but yourself.